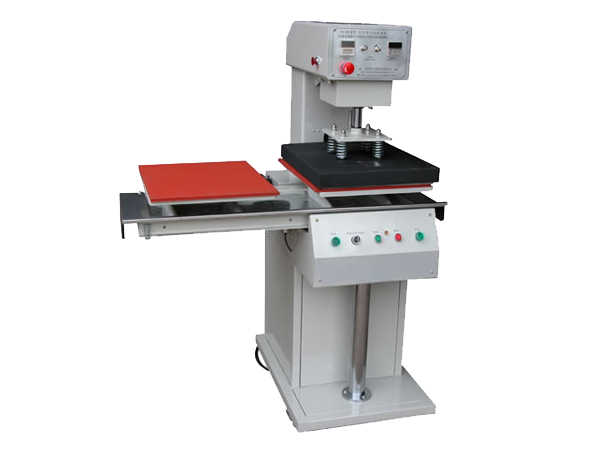 The fully automatic heat transfer printing press comes with two bottom platens for maximum productivity, using materials including cotton, linen and fleece fabrics. The platen press can carry out a variety of tasks, such as sublimation of tote bags or imprinting graphics and text onto T-shirts using a solvent based ink.
For small and medium textile print shops and garment manufacturing businesses, this heat press is an ideal choice as it can also carry out flocking and puff printing.
Using only one heated plate, the heat press provides two print stations. A digital temperature control allows for precise control and easy adjustment. The heating time and pressure applied to the textile substrate are also controlled to achieve the best print results. Though it has numerous features, the heat transfer press is compact and is often considered a necessity for print shops.
Features of the Heat Press
1. An adjustable pneumatic pressure allows easy speed control for a maximum working efficiency.
2. The heat press machine has both manual and automatic modes. When in automatic mode, the press can work for a pre-determined amount of time.
3. In manual mode, operators must press two buttons to activate the heating cycle, protecting the user.
4. A solenoid valve is used to control the position of the heated platen. During a power outage this platen can use remaining air to complete the heating cycle.
5. Note that the upper heated platen must be lifted manually to protect garments from being mishandled, reducing the defect rate.
6. An emergency stop switch is available. Press the button to stop the heating cycle immediately during an emergency, and the upper plate will automatically rise.
7. Work area: 50cm x 70cm.