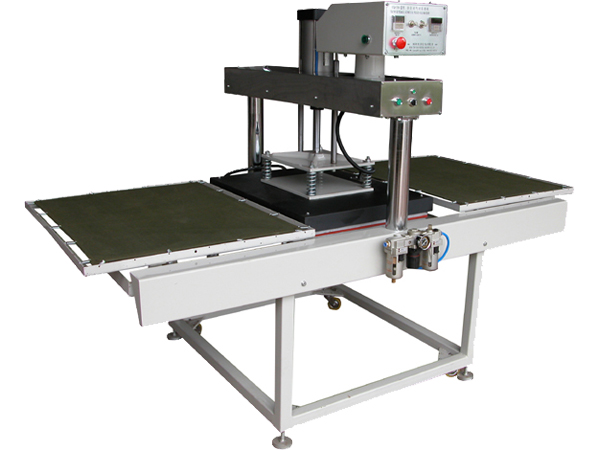 The double-platenheat press is a highly automated press, and operator movement is only limited to the loading and unloading operations.
The heating element is a high precision coil of heating wire that has been installed into the upper platen. This heating technology is fast and applies evenly. Patterns are first printed in sublimating inks on sublimating paper before they are applied to the textile.
Different items can be imprinted with the graphics or texts, including umbrellas, advertisement boards, hats, shoes, toys and apparel. The imported air filter installed on the machine allows for easy pressure adjustment on the dye sublimation printer. The automatic lubrication feature also ensures a more accurate pressure control.
Using an intelligent gauge, sublimation printer operators can check the temperature and heating time for a hassle free operation. An advanced electronic timing control provides timing indications and end-of-cycle alarms. The countdown function allows operators to know when the task will be complete.
Print Area
90cm×130cm
Product model: YTQ-800-III
Product specification: 60CM*80CM
Product Description:
The use of single plate heating double station work mode, save energy and improve efficiency;
It can set the automatic constant temperature heating control mode at will.
Set blanking time at any time.
Adjust the pressure of the gas source and set the pressing pressure arbitrarily.
Adjust the throttle flow at any time, control the working speed and improve the work efficiency.
Adopting automatic and manual control mode, automatic and continuous work, greatly improving efficiency, manual mode is double button control, to protect the safety of operators;
Adopting solenoid valve to control the position of heating plate, the heating plate can be raised manually by residual air when power is suddenly cut off, so as to protect clothes and reduce defective products.
This machine is equipped with emergency shutdown switch. Under special circumstances, pressing emergency shutdown switch, the heating plate automatically rises, reducing accidents and protecting personal and work safety.