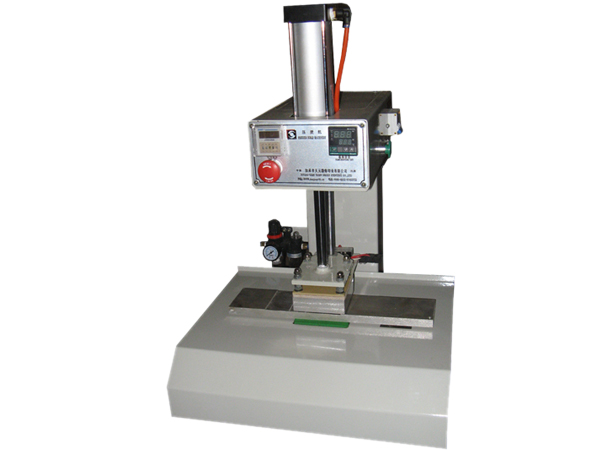 Within the past few years, the embossed and letterpress text effect has become popular in the textile printing industry. This hot stamping press is built to create a letterpress and embossed trademarks on garments, textiles and hand-made clothing.
The automatic embossing heat press is easy to operate, and delivers a high printing rate. The heat platen is made from cost aluminum, ensuring rigidity, durability and even heating. The label heat press can run continuously for 24 hours at high temperatures with no signs of deformation.
Features of the Label Heat Press
1. The heat press uses an aluminum heat platen for a faster heating, without leaving residual adhesive film on the surface.
2. A unique insulation design minimizes the heat loss during the heating cycle. The product quality remains the same through the entire heating process.
3. The lower platen is coated with a silicone cushion to resist high temperatures, allowing the platen to load a wider variety of materials and deliver a better heating performance.
4. The structural design minimizes the downtime, and is easy to operate and maintain.
5. Each electrical element is imported, is durable, safe and long-lasting.
6. The resulting print is clear with evenly distributed colors and a 3D appearance.
Samples showcase

Product model: YTQ-100
Product specifications: 80mm*80mm, 100mm*100mm, 150mm*150mm, 200mm*200mm
Product Description: minitype press is suitable for printing small objects such as trademarks, labels, caps, socks, etc.